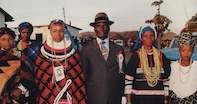 ©Dr Peter Magubane
Bantwane grooms frequently wear a suit and tie while the bride's dress includes beads and blankets. Once married, women wear smocked frocks inspired by the clothing of 19th-century missionary wives.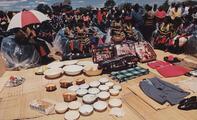 ©Dr Peter Magubane
Rural weddings commonly involve displays of gifts that the bride gives to the groom and his parents. The cost of buying these wedding gifts is set off against the 'lobola' grooms are required to pay to their future fathers-in-law. In the past, cattle were used for these payments, but today 'lobola' transactions usually involve exchanges of cash.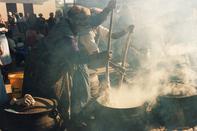 ©Dr Peter Magubane
Rural weddings are marked by the consumption of huge quantities of home-brewed beer and meat. Women normally spend several days preparing salads, rice and potato dishes, and other foods for these festive occasions.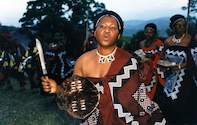 ©Dr Peter Magubane
Swazi and Zulu brides invariably carry a small knife, pointing upwards, as a symbol of her virginity. Once the marriage has been consummated, the knife is pointed downwards.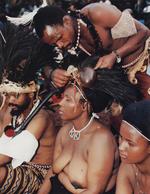 ©Dr Peter Magubane
The wedding ceremonies of Swazi and Zulu traditionalists involve elaborate rituals aimed at ensuring the future cooperation of the ancestors of the bride and groom. Among them is the practice of slaughtering an ox and attaching gall bladders to the bride's head.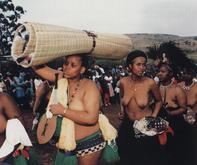 ©Dr Peter Magubane
The presentation of symbolically important gifts, such as sleeping mats, to the groom's family, is also central to these events.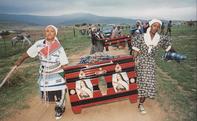 ©Dr Peter Magubane
In present-day KwaZulu-Natal, the gifts brides bring with them to their new homes may include kists decorated with Christian icons. Kists like these are sold at the Mai Mai Market in Johannesburg, and other centres catering to the needs of traditionalists.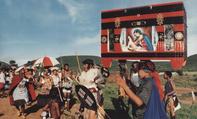 ©Dr Peter Magubane
The kists accompanying brides to their new homes are said to symbolise the transition from one life to another. On their wedding day, women leave their family homes as girls, entering that of their husbands as wives.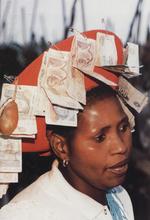 ©Dr Peter Magubane
The money they receive from guests attending their weddings (left). Gifts from the bride's family are off-set by ilobolo payments to her father. Traditionally, these payments were made in cattle.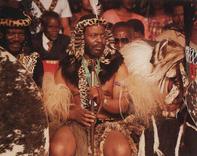 ©Dr Peter Magubane
Today, the weddings of important leaders like Zulu King Goodwill Zwelithini generally include two ceremonies: one traditional and the other Christian. In many rural communities people who attend church services also practise rituals aimed at appeasing their ancestors, and consequently, this integration of different belief systems is widely accepted.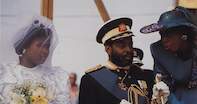 ©Dr Peter Magubane
Polygamy is still fairly common in Zulu-speaking communities. Zulu King Goodwill Zwelethini has six wives and 28 children.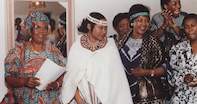 ©Dr Peter Magubane
When Zindzi, the youngest daughter of former President Mandela, married she wore Masai and other beadwork with an outfit based on Xhosa traditional dress. This attests to the growing importance contemporary South Africans attach to their African heritage.By
Professor Sandra Klopper