Extraordinary Game Viewing
Timbavati Game Reserve covers approximately 53,000 hectares of unspoiled South African nature. It is located on the western edge of the Kruger National Park, bordering Hoedspruit in Limpopo and Acornhoek in Mpumalanga.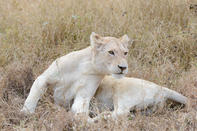 ©Shem Compion
Timbavati is known for its White Lions.
There are no fences between the Kruger National Park and the Timbavati Reserve, allowing game to roam freely. The reserve forms a part of the South African Savanna Biome and is home to the legendary Big Five.
Game viewing is guaranteed to be extraordinary as Timbavati is visited by an abundance of elephant, zebra, wildebeest, kudu and more, and are accompanied by their predators – the lion, cheetah and leopard. The endangered African wild dog and rhino can be spotted, too.
Timbavati Game Reserve welcomes the entire family with tailor-made children's activities at certain accommodations, and a variety of leisurely and adventurous activities. It is a 6-hour drive from Johannesburg, and only an hour from Hoedspruit Airport.