The Head of the Elephant
Situated in the Vhembe region of the Limpopo Province of South Africa, Thohoyandou is a small city that was built as the former capital of the homeland of Venda alongside the former administrative centre, Sibasa. The territory became 'independent' in 1979, but was only reintegrated into South Africa in 1994.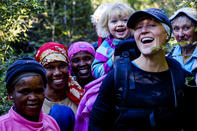 ©Jacques Marais
A warm welcome visiting the Thohoyandou area.
Thohoyandou, meaning 'head of the elephant' in Tshivenda, is named after the great 19th-century king of the Vhavenda, King Thohoyandou - the name explains why the town is the administrative and commercial hub for the traditional Venda community.
Although Thohoyandou is the former capital of the bantustan of Venda, Dzanani is the traditional capital of Venda and it is the home of the VhaVenda kings. The Dzata Ruins is an archaeological site in Dzanani, which is just 40 km outside of Thohoyandou, that houses the ruins of the royal kraal of the VhaVenda kings. The Dzata Ruins and the Museum of the Drum are on the same site. The site dates back to 1400 AD and was the flourishing capital of the Venda empire. Visitors can explore stone-walled terraces and walkways, and an interconnected series of huts, cattle and the Museum of the Drum, which depicts the history of Venda.
Venda People
The Venda are a medley of people from differing tribes that joined together centuries ago. Many came from the central districts of Malawi between the 14th and 17th centuries, and settled in between the Soutpansberg Mountains and the Limpopo River. An area filled with lakes, rivers, forests and waterfalls.
A stadium, originally named 'Venda Independence Stadium', was built in Thohoyandou to commemorate the independence of Venda. In 1994, when the region became reintegrated into South Africa, the stadium was renamed to 'Thohoyandou Stadium'. Today, Thohoyandou is one of the fastest emerging towns in Limpopo Province and it is also home to the University of Venda.