Traditionally, men spent time separately from women in the shade cast by the homestead walls at different times of day.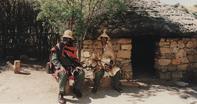 ©Dr Peter Magubane
Alternatively, they congregate under trees for important council meetings, thus ensuring the privacy of their deliberations.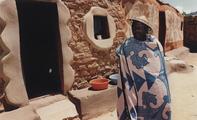 ©Dr Peter Magubane
Today, some men work at cultural villages that afford tourists an opportunity to learn more about local customs. The people who work at these cultural villages commonly dress up in clothing that is now associated mainly with the past, such as the blankets Sotho communities began to wear in the early 19th century.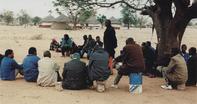 ©Dr Peter Magubane
The habit of conducting council meetings to discuss policy in the shade of large trees remains widespread to this day. Among Zulu-speakers, meetings like these are referred to izimbizo (sing. imbizo), while Sotho-speakers conduct what they refer to as a kgotla, meaning court. These terms have been borrowed in South African English to describe meetings called by government to discuss strategy planning.By
Professor Sandra Klopper