Sibuya Game Reserve is located on the Sunshine Coast in the Eastern Cape. It is about 130 km from Port Elizabeth, and just outside the quaint seaside town Kenton-on-Sea.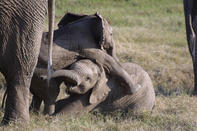 ©Roger de la Harpe
Elephant calves playing. Eastern Cape.
The landscape is lush with open grasslands, fynbos and river plains, and abundant with bird-and wildlife. The unique East Cape Valley bushveld, coastal forests and grasslands are all to be explored at Sibuya, set against the backdrop of the Indian Ocean. Almost 400 bird species and 45 species of wildlife, including the Big 5 can be spotted on game drives and day trips with professional guides.
Leisurely cruises along the Kariega River are offered, as well as opportunities for fishing. Sibuya offers a variety of camps and lodges to host the whole family, being a malaria-free area and providing kids entertainment at the River Camp. From Port Elizabeth Airport, it is about a 2 hour drive.
Sibuya Game Reserve Accommodation offers luxury solar-powered camping on the banks of the Kariega River or choose to reside in the heart of a forested valley....
more