Heart Of the Klein Karoo
Sanbona Wildlife Reserve is in the heart of the Klein Karoo and at the foot of the Warmwaterberg Mountains. Its location in the Cape Fold Mountains enables it to offer the open Karoo plains, San rock art and indigenous fauna and flora, including the Big 5, to its visitors.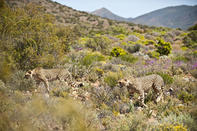 ©Justin Fox
Cheetah (Acinonyx jubatus).
The gorgeous landscapes of open space, jagged cliffs and trickling streams makes the views at Sanbona breathtaking. The reserve allows its environment to be thoroughly explored by hosting activities such as birdwatching, game drives, nature walks, stargazing and a boat safari. The whole family is welcomed, and children are offered their own attentive safari and indoor activities.
A variety of accommodation is offered including a family lodge, explorer camp and manor. Sanbona Wildlife Reserve has something for everyone, and caters for all on its malaria-free, luxury safari. It is a perfect weekend getaway from the busy city, only a three hour drive from Cape Town.
Nestled amongst the valley are towns that can be easily accessed, all of which present more opportunity for exploration of South Africa's rich cultural and natural heritage. Visitors can visit wineries, tour museums and galleries, hike, ride mountain bikes, mountain climb or just enjoy the tranquility that nature has to offer.
Sanbona Private Wildlife Reserve lies at the foot of the Warmwaterberg Mountains in the Little Karoo in the Western Cape....
more