Phinda Private Game Reserve is situated in KwaZulu-Natal near the coastline, spanning 23 000 hectares of protected land. The landscape varies from mountain ranges to marshes, river courses and plains, and its seven habitats are home to a variety of game, including the Big 5, the endangered black rhino and cheetah, giraffe, hyena and more than 400 bird species.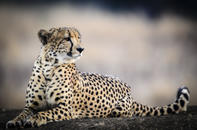 ©Roger de la Harpe
Cheetah (Acinonyx jubatus). KwaZulu Natal, South Africa.
Located next to the Indian Ocean, the reserve shares the pristine beaches, marine reefs and a large area of the unique and rare sand forest ecosystem. Exclusivity and privacy are ensured as a limited number of guests are allowed at the reserve at a time, and day visitors are not permitted.
The reserve provides many options for accommodation in its lodges located in different natural environments. Phinda Private Game Reserve has overcome numerous challenges to become the successful and tranquil game lodge it is today. The reserve is one of the world's most ambitious and successful blueprints for international ecotourism.
The reserve was established in 1991 with the intention of caring for wildlife and its surroundings, as the land was severely overgrazed and in need of protection. Aside from the luxury lodges and game viewing, the mission of the reserve is to provide sustainable ecotourism that will leave a lasting impression on guests.
Phinda Private Game Reserve situated in KwaZulu Natal is known for its abundant wildlife, diversity of habitats and wide range of safari activities....
more