©Heini Schneebeli
Wood and metal Zulu knobkerrie, circa 1900. L. 80 cm, W. 8 cm.
Many, but by no means all knobkerries and other sticks were embellished through the addition of strips of imported brass and copper wire woven into intricate patterns either at the top or bottom, or at carefully spaced intervals along the length of their shafts.
Wirework details like these were added to individualise what men often regarded as their most important personal possessions.
Since, initially, this imported commodity was comparatively expensive, some men continued to rely on various grasses to decorate their sticks (and assegais).
Plaited into attractive patterns, these grass decorations, like the brass and copper wire decorations found on many 19th and early 20th-century sticks and clubs, often emulated techniques associated with the weaving of baskets.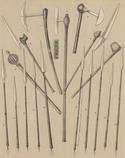 ©Muller and Snelleman
Weaving techniques used to decorate the shafts of axes, assegais and other items.
The sticks and assegais carried by ordinary homestead heads were often personalised through the addition of elaborately woven brass and/or copper wirework. Although in some cases this decorative weaving may have been done by specialists, most men learnt the art from their fathers.
Travelling through southern Africa in the early 1890s, Muller and Snelleman drew attention to some of the intricate weaving techniques used to decorate the shafts of axes, assegais and other items by including close up details of these patterns in some of their plates.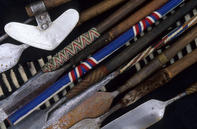 ©Roger de la Harpe
Zulu weapons near Melmoth, South Africa.
After the mid-20th century, the practice of decorating the shafts of fighting sticks, assegais and ceremonial as well as lethal weapons with woven wirework patterns gave way to use multi-coloured, plastic-coated telephone wire.
Variations in the choice of colours and the in the use of a wide variety of patterns and weaving techniques attest to the inventive power of this ongoing tradition.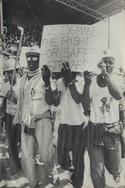 National Union of Mineworkers demonstrate at a memorial service for 177 workers killed in the Kinross Mine Disaster.
The practice of carrying sticks and staffs is so ingrained that migrants sometimes purchase commercially available alternatives from curio shops when they don't have ready access to items sold by rural carvers at regional markets, livestock auctions, and the state-managed and funded dipping programmes provided to under-resources cattle owners.