Official Languages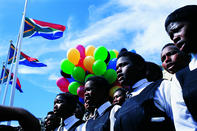 ©Eric Miller
South African school choir
South Africa has 11 official languages, namely Afrikaans, English, isiNdebele, isiXhosa, isiZulu, Sepedi, Sesotho, Setswana, siSwati, Tshivenda and Xitsonga. The five most commonly spoken home languages in South Africa are isiZulu, isiXhosa, Afrikaans, Sepedi and English.
English and Afrikaans are the most commonly used languages in official circles, i.e. the media and in businesses. Road signs, advertisements, directions etc. are all mainly in English, with possible translations in Afrikaans, Zulu and Xhosa. Even if English is not the home language of a South African, the majority are able to speak and understand the language.
South African Slang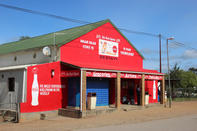 ©Ann Gadd
A local cafe, South African style.
South Africans use a lot of slang, which alters depending on the province you are visiting. A few words common in all nine provinces that you will probably come across while visiting South Africa include:
Howzit - a traditional South African greeting meaning 'How are you?' or 'How are things?' Derived from the words 'How is it?'
Boet - Afrikaans word for brother, a term of affection between male friends. In Cape Town, you are more likely to hear 'bru', which offers the same meaning.
Café - a corner shop selling everyday goods e.g. bread, milk, cigarettes
Lekker - common South Africa slang, refers to something nice. E.g. Question: 'How did you sleep?' Answer: 'Lekker".
Just now - Just now in South Africa refers to sometime in the near future
Now now - means right away
Braai - a great social gathering and South Africa's equivalent to the barbecue. Meat is cooked over an open fire and friends gather to talk, drink beer and have fun. A great weekend pastime among South Africans.
A Melting Pot of Cultures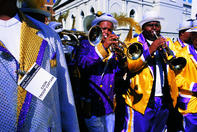 ©Eric Miller
Cape Minstrel Carnival, Cape Town.
Due to the country's rich cultural and traditional diversity, no uniform South African culture exists. The varying ethnic and cultural groups of the country do, however, enjoy their own customs and traditions.
Many of these customs, besides traditional African cultures, are influenced by European and Western traditions. Music, film, art and drama in South Africa are influenced by European, Western and African elements.
All Religions Representend
The majority of the South African population belongs to Christian churches. Other major religious groups include Hindus, Muslim and Jews.