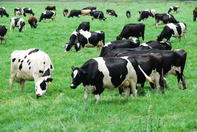 © Pannar Saad
Dairy cows in ryegrass. Pastures can be used for grazing but also to make silage and hay.
The planting of pastures to supply food for animals is determined by the soil type and climate, the intended end-use of the pasture as well as the type of animal and production stage of the animal.
The cheapest way to utilise pastures is by direct foraging by livestock, but pastures can also be harvested and made into hay or silage.
The choice of pasture crops is complex - it can consist of grasses, legumes and more often grass-legume mixtures - and guidance from agricultural extension officers or seed companies is advised.
This series provides only a very general overview of pastures in South Africa and more in-depth research by the reader into farm and livestock-specific pastures are advised.