The Reed Dance
In the mid-1980s Zulu King Goodwill Zwelithini introduced a Reed Ceremony similar to that held annually in Swaziland, the previous home of his first wife.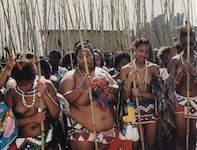 ©Dr Peter Magubane
Although the primary purpose of this event is to celebrate the fertility of young women, it also affords an opportunity to encourage them to refrain from indulging in premarital sexual relations.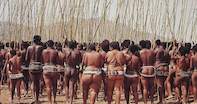 ©Dr Peter Magubane
Because the Reed Ceremony was first introduced soon after the formation of the United Democratic Front (UDF), it has been suggested that it formed part of a larger attempt to foster ethnic loyalties in the face of efforts to moblilise internal support for the then exiled African National Congress (ANC). Some UDF leaders later served a members of parliament for the ANC following South Africa's first democratic election in 1994.
The Ukwemula or Umemulo Ceremony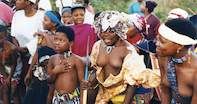 ©Dr Peter Magubane
Some Zulu-speaking families still organise coming-out ceremonies for their daughters, signalling a girl's readiness for marriage. They wear a caul of fat from an ox, which is said to symbolise the protection of the ancestors.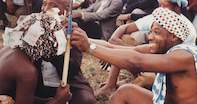 ©Dr Peter Magubane
Money pinned to the young women's hair by guests is used to buy their dowry. Young men commonly attend these ceremonies in search of future wives.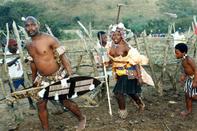 ©Dr Peter Magubane
Accompanied by their fathers, young women commonly enter the family cattle byre to communicate with the ancestors, who responsible for ensuring the well-being and fertility of all their descendants. The ukwemula ceremony has also become common in urban areas where it is favoured over 21st birthday parties by some Zulu-speaking communities.
Girls From the Drakensberg Region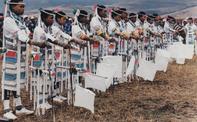 ©Dr Peter Magubane
In the Drakensberg region of KwaZulu-Natal, young women intermittently participate in communal coming-out ceremonies during which they wear nearly identical garments and perform a series of intricate movements.
©Dr Peter Magubane
In the recent past, these girls have participated in synchronised movements involving different coloured flags. Long hours are devoted to practicing these movements and to making the elaborate garments worn on these occasions.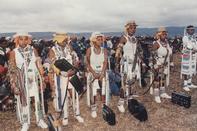 ©Dr Peter Magubane
Portable cassette players have in some cases been used to accompany girls participating in competitions aimed at assessing their dancing skills.By
Professor Sandra Klopper