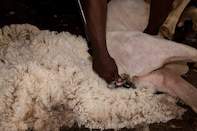 ©National Wool Growers' Association
The NWGA has provincial offices at Ermelo for KwaZulu-Natal and Mpumalanga, Bloemfontein for the Free State, Carnarvon for the Northern Cape, Middelburg for the Eastern Cape and Caledon for the Western Cape. Its headquarters are in Port Elizabeth in the Eastern Cape.
Offices serving communal farmers are situated at Kokstad in KwaZulu-Natal and East-London, Sterkspruit, Butterworth, Queenstown, Mount Frere, Mthatha, Cofimvaba and King William's Town in the Eastern Cape
National Wool Growers' Association of SA serves as the voice of wool farmers on various platforms, such as Agri SA, the Predation Management Forum, the Animal Health Forum, the Stock Theft Forum, AgriSETA, Cape Wools and the International Wool Textile Organisation, and liaises with government, political leaders and other relevant role-players, locally and internationally, to create a favourable environment for wool production.
It has also been involved in the development and standardisation of the wool classing system, and the generic marketing of wool. It was also one of the founding members of the International Wool Secretariat in 1937, along with Australia and New Zealand, aimed at promoting international wool consumption, which in spite of its exceptional quality represented a mere 1,2% of global fibre consumption in 2019.
The NWGA advances the industry by offering production technology services and aligning research efforts with farmers' needs.
One of its goals at the moment is to increase wool production in South Africa, which has fallen from 100 million kilograms to below 50 million kilograms, to 75 million kilograms per year.
Sheep farming is done all over South Africa, but is traditionally concentrated in the more arid regions of the country. Although the income derived from sheep farming is modest compared to other livestock produced...
more