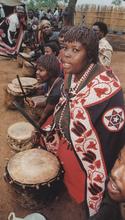 ©Dr Peter Magubane
Throughout rural South Africa, important ceremonies like weddings and various kinds of initiation almost invariably culminate in celebrations aimed at praising and thanking the ancestors. Locally carved drums are commonly used on these occasions.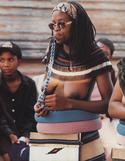 ©Dr Peter Magubane
In most cases, ritual celebrations are accompanied by dance sequences, most of which are orchestrated with the assistance of musical instruments, including not only carved drums, but other instruments such as plastic whistles.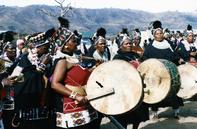 ©Dr Peter Magubane
Drums used during ceremonies by independent church groups are generally based on examples of European origin that were first introduced to South Africa by British military bands. Most drums based on the African models require the stretching a membrane over one end of a hollow wooden vessel.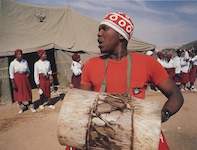 ©Dr Peter Magubane
Like European examples, some locally made drums have membranes stretch over both ends. Strapped around the neck, they can be ported during processions.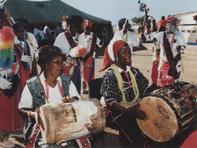 ©Dr Peter Magubane
Today, it is not uncommon for drums to be fashioned from discarded tins. Recycling practices like these attest to the ingenuity of rural communities.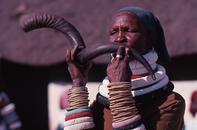 ©Dr Peter Magubane
Some bugles played at ceremonies and rites of passage are made from animal horns, and are generally played by women. The horns of both domestic and wild animals are used for horns of this kind.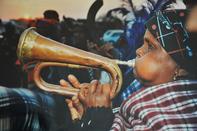 ©Dr Peter Magubane
It is now quite common to find people with old trumpets and other Western instruments participating in festive and ritual events. Although often battered, they remain functional.By
Professor Sandra Klopper