As early as the 1940s, some headrest carvers used motifs signalling the changing realities of modes of transport, such as cars and busses.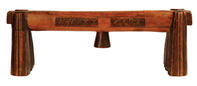 Although migrants could not afford to buy cars, by the mid-20th century, busses increasingly replaced trains as the primary means these migrants used to travel to and from the mines and urban centres of work in cities like Johannesburg, which is still commonly known as Egoli – the City of Gold.
The minibus taxi industry, which first emerged in the 1970s, has since become the primary mode of transport in rural as well as urban areas. A truck on the on the reverse face of this headrest brings to mind modes of transport still common in rural areas to this day.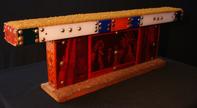 In the course of the 1970s, a migrant labourer from the Msinga region of present-day KwaZulu-Natal working in the greater Johannesburg area produced headrests assembled from industrial off-cuts, including Perspex, strips of aluminium, and synthetic carpeting.
One of these headrests also has a newspaper cutting from the Tonight section of The Star newspaper sandwiched behind a piece for dark red Perspex, advertising the newly-released movie, The Boy Friend. Another photograph documents a leisure scene against the backdrop of Durban's beachfront hotels.
Produced as a wedding gift, it evokes the idea of an expensive honeymoon that would not have been within the reach of either the producer or the recipient of this remarkable headrest. Six other headrests by this extraordinarily inventive artist are also known to have survived, two of which are in public collections.
By
Professor Sandra Klopper