Gateway to Wildlife
Malelane is a peaceful farming town situated just on the N4 in the Mpumalanga Province. It is also known as the gateway to the Kruger National Park. Malelane's close proximity to the Kruger Park has made it a prime destination for travellers to either stock up on goods before entering the Kruger or stay there for accommodation.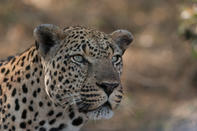 ©Shem Compion
The Adventure Awaits
The Malelane Inkwazi Shopping Centre has all the shops you need to stock up and prepare for your big adventure. There is also a tyre centre in case you need to check your car before embarking on your journey. Malelane offers the perfect escape from city life. Its peaceful lifestyle and seclusion allows you to really connect with nature and reflect on the beauty of the South African wilderness.

Driekoppies Dam was completed in 2002 and extends all the way to Swaziland. The dam lies in Malelane's Lowveld region. It is a popular spot for fishing, as largemouth bass weighing up to 3-4 kgs populate the Lomati River. You can even spot some big game nearby the dam.

Leopard Creek Golf Course is one of the most beautiful golfing courses in South Africa. Using innovative landscaping and architecture, the course is naturally protected from the wilderness without imposing on the landscape. The creek itself continues to be home to hippos and crocodiles while spotting elephants and buck are a common sight.
Mix and match your holiday stay with accommodation on the doorstep of the Kruger National Park, in Malelane, where you can enjoy the beauty of the African wildlife, play a round or two of golf and relax at the spa....
more
Malelane's name derives from the Swazi word 'emlalani', which means 'Land of Lala Palms'. It is also possible that it could refer to the Swazi word meaning 'guardians' taken from a tribe that lived nearby to the area....
more