Big Five Game Reserve
The MalaMala Game Reserve is located between the private Sabi Sands Nature reserve and the famous Kruger National Park. The reserve comprises of 15 000 hectares of land and shares an unfenced border with the Kruger Park.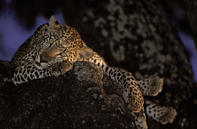 ©Roger de la Harpe
Leopard in tree. MalaMala Game Reserve, South Africa.
It offers amazing accommodation for those looking to spend a few days in the bush. With beautiful rivers running through MalaMala Game Reserve, you can be assured to spot many free roaming big game on safari.
The game reserve focuses on offering the best wildlife safari experience for visitors. At MalaMala Game Reserve you can aim to see the MalaMala Seven, which includes sightings of lion, rhino, leopard, buffalo, elephant, cheetah and wild dog. Herds of zebra, a variety of buck and other antelope are also frequent visitors to feed off the rich grasses in this reserve.
Many first-time visitors to these premier lodges in the largest private parcel of land in South Africa's foremost private game reserve, the Sabi Sand, find them unexpectedly understated....
more
In 1922, MalaMala was a farm, which was acquired by the Transvaal Consolidated Land and Exploration Company (TCL for short). It was predominately a cattle farm with over 800 head of cattle....
more