Contract Killing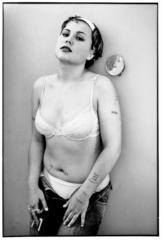 ©Tracey Derrick
It took Tracey Derrick, a renowned social photographer, 6 months to gain permission to spend over a year documenting the inmates at the Malmesbury Women's prison.
"This project is a deeply personal record for myself – an acceptance of people living in different circumstances and their choices that they make on how they live their lives.
Most of the women that I met are there because they needed to put bread on the table for their families or they are caught up in the traditional patriarchal system of power and gangs that comes from our long history of exploitation." Evelyn – 21 years old, convicted of murder, sentenced to 8 years.
She's been in prison since she was 14 years old, when she committed her contract killing.