The Lap of Luxury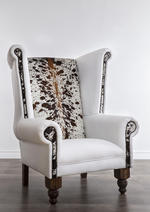 Nguni cows are of great social, economic and spiritual significance in Southern African culture. In the West, owning a Nguni hide denotes elevated status.

Bred during the southward migration of the Nguni people, this bovine breed developed signature mottled markings, they are thus prized for their individuality.

Each sofa in this line offers a unique aesthetic. Buyers can choose between oak or iroko legs, though every piece is constructed with high-density foam and is upholstered in genuine A-grade full-grain leather.
To become the owner of a one-of-a-kind Nguni hide sofa, submit an enquiry to SouthAfrica.co.za.
Priced From: US$1150