OK, so here's the problem … how do you feature a dorp that does not actually exist? The fact is that the locals, when referring to Kosi Bay, in fact mean a region known as Nkosi's (or The King's) Bay. The closest town is eManguzi, a bustling border town just 25 kilometres from the actual coast.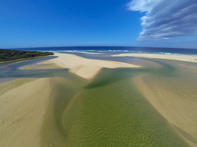 ©Roger de la Harpe
However, the drive to Kosi Mouth is spectacular, and the views from towering dunes, ancient fish kraals and many lodges dotting the lake shore makes it a town in our humble opinion.
Embraced by Swaziland and Mozambique in the west, and an arch of remote beaches and a balmy Indian Ocean to the east, Kosi is a magical place. Lakes, pockets of rare sand forest vegetation and a relatively untouched coastline await exploration, with diverse cultures, a rich history and boundless wildlife intertwined with the life-giving powers of these shimmering lakes.
Did You Know? Maputaland is home to the biggest mammal (whales), the biggest fish (whale shark), the oldest fish (coelacanth), the largest sea turtle (leatherback turtle), the biggest land mammal (elephant), the smallest antelope (suni) and the longest leaves in the plant kingdom (Raffia palms leaves).
Any stay in the Kosi Bay Nature Reserve combines relaxation with water, be it fishing, swimming, snorkelling or simply watching the birds come and go....
more
There are many reasons to visit Kosi Bay, not least because it is wild and lovely. It is the furthest north you can go on South Africa's East coast, and it is part of the Maputaland coral coast, but for tree lovers the biggest attraction is the palms....
more