Ixopo is a small KwaZulu-Natal town about 80 km south of Pietermaritzburg and is most famous as the setting for Alan Paton's novel 'Cry the Beloved Country'. Set in the exquisite Natal Midlands countryside, the town lies on a tributary of the Mkhomazi River.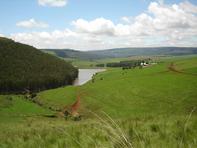 Ixopo area, Kwazulu Natal.
Founded in 1878, Ixopo was originally named Stuartstown, in honour of Marthinus Stuart, the settlement's first magistrate. However, the old Zulu name for the area proved far more popular and the town was named Ixopo. Today, Ixopo is at the centre of a scenic area, especially known for its cattle and timber.
The town also offers an array of activities for the eco-tourist. Ixopo still boasts two of its 19th century churches and a seminary that is still operational, while two other landmarks including the Buddhist Retreat Centre further enhance the area's spiritual tradition and reputation.
A glaringly white, domed Buddhist Stupa rearing out of the woodlands in the southern KwaZulu-Natal Midlands at Ixopo seems a most incongruous edifice....
more