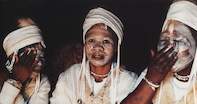 ©Dr Peter Magubane
While many rural traditionalists practice Christianity, they still rely on healers and ritual specialists to mediate between them and the ancestors. At the initiation of these mediators, the powers of the ancestors are invoked by dancing and covering the face in clay.
©Dr Peter Magubane
In some communities such as the Bantwane, the installations of ritual specialists are major events involving multiple candidates. For those who can afford it, the cost of preparing for these installations includes the commissioning of intricately decorated beadwork panels.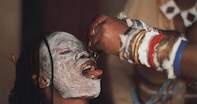 ©Dr Peter Magubane
At their initiation ceremonies, novice ritual specialists consume gall from ritually slaughtered goats.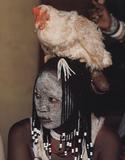 ©Dr Peter Magubane
A chicken is also commonly placed on the head of a prospective candidate before being slaughtered. The initiate is then covered in the chicken's blood.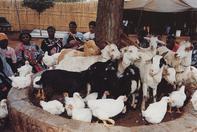 ©Dr Peter Magubane
The initiation of ritual specialists includes the slaughter of goats and chickens. The goats' gall bladders are attached to initiates, who are smeared with blood.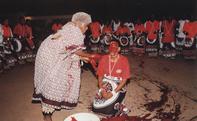 ©Dr Peter Magubane
The wearing of black, red and white garments is believed to invoke the powers of the ancestors. This practice is followed by ritual specialists throughout South Africa.
©Dr Peter Magubane
Over time, the gall bladders attached to the garments of ritual specialists during their installation fray and wear away. Removing them would disturb the protection afforded by the ancestors.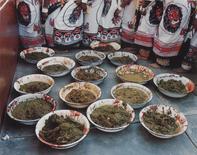 ©Dr Peter Magubane
Novice initiates are expected to consume the contents from the stomachs of ritually slaughtered animals before they re-enter the community as fully fledged mediators and healers.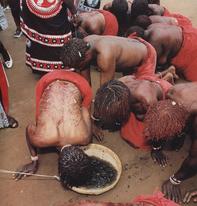 ©Dr Peter Magubane
In most cases initiates merely lick these bitter substances. Today, many healers go on to join traditional healers' organisations. These associations play an increasingly important role in lobbying for the formal recognition of traditional healing practices.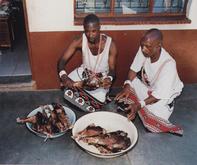 ©Dr Peter Magubane
At the end of their installation, ritual specialists consume the roasted meat obtained from ritually slaughtered goats.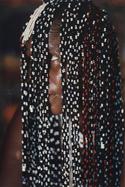 ©Dr Peter Magubane
Ritual specialists, who wear white, black and red beads to signify the presence of the ancestors, play a crucial role in mediating between the living and the dead. In most cases, they communicate the needs of the ancestors to their clients, thus securing the ancestors' ongoing commitment to ensuring the well-being of the living.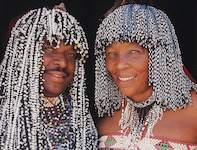 ©Dr Peter Magubane
While both men and women practice as ritual specialists, male practitioners commonly cross dress. Regardless of gender, many of these ritual specialists still produce their own beadwork.By
Professor Sandra Klopper