South Sotho women create bold optical effects in their mural designs.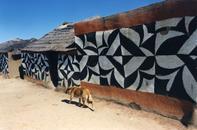 ©Dr Peter Magubane
While many of these designs may seem abstract, most are inspired by natural forms, notably flowers and the leaves of plants like maize, which the women grow to feed their families.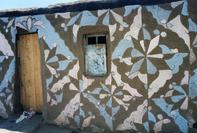 ©Dr Peter Magubane
South Sotho murals are imbued with fertility symbolism that links women, the earth and plant forms. The fecundity of the fields and of women is celebrated through the depiction of radiant blossoms and other flower-like forms.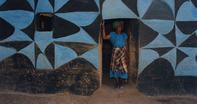 ©Dr Peter Magubane
Murals form part of the cycle of nature and life. When rain falls, and the crops begin to grow, they are washed away. By repainting them, year after year, women create a link to the ancestors, who protect the living against illness and misfortune, ensuring adequate rainfall, lots of sunshine and the peaceful coexistence of all members of the homestead.
©Dr Peter Magubane
Although some South Sotho murals are characterized by stark juxtapositions of commercially manufactured paints, others rely on the use of comparatively neutral earth tones. It was only once brightly coloured paints became readily available in the course of the 20th century that women sometimes abandoned the practice of using locally available natural pigments.
Murals as a Response to the Land Act of 1936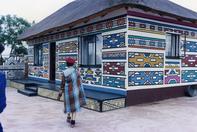 ©Dr Peter Magubane
The Ndzundza Ndebele were the first to use commercially manufactured paints to decorate their homesteads. Their decision to do so as early as the 1940s was motivated by a desire to proclaim their difference from neighbouring South African groups living in present-day Mpumalanga.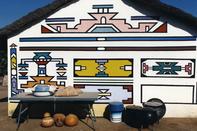 ©Dr Peter Magubane
The Ndebele were employed as indentured labourers following a bloody encounter with white farmers in 1883. This helps to explain why, unlike other ethnic groups in South Africa, they failed to secure communal lands through the Land Act of 1936. Originally, their highly visible murals served both to reinforce their sense of cultural cohesion and to register their protest at this exclusion.
Noria Mabasa's Altar-like Murals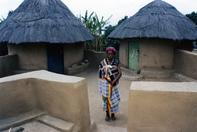 ©Dr Peter Magubane
Historically, Venda dwellings were surrounded and enclosed by elaborate courtyards. But unlike women from South Sotho and Ndebele communities, women from this community do not necessarily paint murals on homestead walls.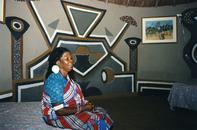 ©Dr Peter Magubane
Famed Venda artist Noria Mabasa, who displays her clay sculptures and wood carvings in the courtyard of her home, also has large altar-like murals on the interior walls of her former homestead, which now serves as a guesthouse.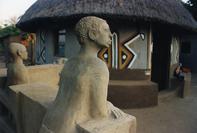 ©Dr Peter Magubane
In the past, Noria Mabasa produced clay sculptures inspired by the didactic figurines used in the instruction of girls attending Venda initiation ceremonies. Today, she focuses mainly on carving complex scenes from large trunks, especially driftwood. These works deal with themes like famine and the destructive impact of floods on rural communities.
Homage to Mothers and Grandmothers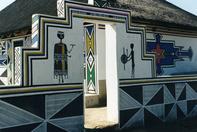 ©Dr Peter Magubane
In some cases, Ndebele murals underline the importance people attach to traditional practices. Their commitment to these practices is reflected in images depicting older forms of dress, like beaded blankets, and the carrying of shields and fighting sticks by male initiates. Some murals also pay homage to more traditional mural styles that predate the use of commercially manufactured paints.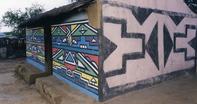 ©Dr Peter Magubane
Many Ndebele women still combine older mural designs with the more colourful, densely patterned styles adopted in the 1940s. By doing so, they acknowledge the achievements of their mothers and grandmothers while affirming their own creativity.By
Professor Sandra Klopper