Fisherman's Settlement
The earliest inhabitants of the area now known as Kleinmond, were the strandlopers, who left evidence of fish traps and animal bones. Such artifacts, which add to the history of Kleinmond, have been found in mountain caves along the beaches between Kleinmond and Hawston.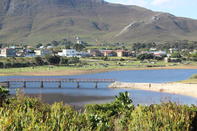 ©Ann Gadd
The town of Kleinmond developed around a small fishing community, and the estuary and lagoon are popular spots for fishing.
During the 19th century, Kleinmond saw its first signs of community when a small group of fishermen took up residence at Jogensklip, now the harbour of Kleinmond. Soon after, it expanded into a village and became a popular holiday spot for farmers. A signature tree dubbed 'Die Preekboom' can be found on the lawns at the Kleinmond Lagoon and since 1902 it has been the meeting point for church services. Today church services are still held there during the festive season at the end of the year.
In 1910, Lamloch Farm was bought by the Kaplan brothers, which would ultimately become Kleinmond. During the 1940s, a road was built by Italian war prisoners that linked Gordon's Bay to remote spots such as Kleinmond and the surrounding towns of Betty's Bay, Pringle Bay and Rooi Els. Soon the area grew exponentially, and in 1948 the first Village Management Board was established.
In 1954, Kleimond's harbour was declared an industrial area, and fishermen moved their houses up higher along the mountain. Development of infrastructure took off in the 1960s when a tar road, a town hall, municipal offices and a library was built in town.