The Highveld is a portion of South African inland plateau, situated at a higher altitude than the Lowveld. The Highveld region boasts with many beautiful areas, reserves and towns. It constitutes almost all of the Free State and Gauteng provinces, as well as a portion of KwaZulu-Natal.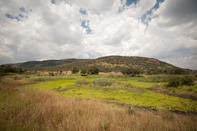 ©Jacques Marais
The Suikerbosrand Nature Reserve.
The highest part of the grassland is around 2100 m on its northeastern boundary at the Mpumalanga Drakensberg. Magaliesberg separates Highveld from Bushveld, and the grassland slopes down gently towards the Great Karoo to the south. It covers a total of around 30% of South Africa's land area.
The Highveld terrain consists mainly of grasslands and plains, with rocky ridges in the Gauteng area. The Vaal River is the main water drainage system of the Highveld, and the Orange River drains the southward area. The Highveld rainy season occurs in summer, characterised by great thunderstorms during the months of November to January.
The florathat found in the Highveld area are mostly various grass and herbs species dotted along the plains. The area is home to a number of endangered animals, such as straw-coloured fruit bats, African rock python, mountain zebra and the blue crane. Other species include the nile crocodile, giant girdled lizard, rough-haired golden mole and rock monitor.
The Highveld is excellent agricultural land, and many areas where it occurs has been utilised for mostly grain and wheat farming. Various nature reserves have been proclaimed to ensure the Highveld is protected and conserved in its natural state, such as Suikerbosrand Nature Reserve and Rietvlei Nature Reserve.
In the Gauteng area there are various nature reserves that conserve the Highveld biome. Suikerbosrand Nature Reserve is one of the province's premier ecotourism destinations, comprising of rocky Highveld grassland and a range of fauna and flora....
more