Baviaans
A journey through the Baviaanskloof (Valley of Baboons) is an extraordinary experience that takes you through dramatic scenery and cultural sites that showcase the remarkable prehistory and history of the region.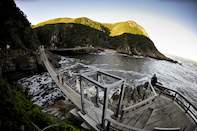 ©Jacques Marais
Foot-bridge over the Storms River.
It is a place of contrast with pools fringed by white sands, hot, spekboom–clad slopes and fynbos covered mountains. In contrast, you also find cool, forested kloofs that are cut by crystal clear streams with rushing waterfalls and kudu browsing through thornveld in lower lying areas.
Tsitsikamma Adventure
The ancient San people were drawn to the wild and lush beauty of the forested Tsitsikamma region where Cape fold mountains, carved by steep river gorges, plunge down to a rugged coastline.
When visiting the area you quickly realise why it is called the 'place of the sparkling waters'. Beautiful indigenous forests are home to century-old trees such as Yellowwood, Stinkwood, Hard Pear, Ironwood and Kamass. The area has a number of adventure activities on offer ranging from bungee jumping to tree-top canopy tours and a number of ocean-based activities, making it an ideal family destination.
Kouga
The Kouga region is not only home to the surfing capital of South Africa - Jeffrey's Bay, it also home to the spirit of the Khoisan people, the world's oldest cultural group. Visitors can experience a unique fusion of ancient and modern cultures, pristine coastline and a vibrant, fertile river valley nestled between three mountain ranges.
Walk along kilometres of unspoilt coastal dune fields, or share in the exhilaration of hundreds of dolphins at play as they patrol this stretch of the Indian Ocean, joined by giant Southern Right whales during the winter months. Activities like hiking, birding and a range of water sports cater for a wide variety of interests and families alike.
Frontier Country
Frontier Country is the meeting ground of the Xhosa, Khoi San, Afrikaner and English-speaking groups. A fascinating, unique cultural history has developed as a result. Nine frontier wars were fought in the area over almost a century between 1779 and 1878.
Frontier Country is one of the most diverse ecological regions in South Africa, with a variety of biomes that provide unspoilt and spectacular scenery. Thousands of hectares are devoted to nature and game conservation, bringing with them the return of great herds of wildlife to the places where they once roamed freely.
This malaria-free region is fast gaining local and international popularity for excellent game-viewing with a variety of private reserves that include the Big Five.
Sunshine Coast
The Sunshine Coast offers a diverse range of experiences from safaris to adventure travel, beautiful beaches and game lodges offering Big 5 game-viewing, rich historical sites and scenic splendour. Bursting with adventure and coastal charm, it comprises rivers, lakes and lagoons, sub-tropical forests and countless quaint seaside hamlets just waiting to be explored.
Renowned as a watersports Mecca, it boasts some of the most unspoiled and beaches in the country, but with the warm Indian Ocean and over 500km of beaches it is also easy to just sit back and relax.
Amathole Mountain Escape
Set against the majestic and forested Amathole Mountains – stretching from Stutterheim in the west to Adelaide in the east – Amathole Mountain Escape offers a world-class playing field for hiking, mountain biking, fly fishing, rock climbing, abseiling, kayaking and other adventure sports.
A plethora of wildlife in the area also provides the ideal opportunity for game viewing. Camping, some of the best 4x4 trails and visits to cultural villages are some of the activities available on this route.
The Amathole area is alive with history - from colonial forts and battlefields to the myths and legends of the Xhosa. Museums include the King William's Town's Amathole Museum (that boasts the famously informative Xhosa Gallery). The University of Fort Hare in Alice, former president Nelson Mandela's alma mater, houses a stunning collection of African art.
Wild Coast
This undeveloped region, dotted with rural Xhosa villages, has been locked in a time capsule since thousands of Xhosa-speaking tribes trekked over the centuries to meet up with the Khoi near the Fish and Keiskamma Rivers further west. It is from the Khoi that the Xhosa language derives its unmistakable clicks, found in as many as one-sixth of all spoken and written words.
Adventure activities include hikes, horse trails, game watching, cliff jumping, abseiling, quad biking, mountain biking, saltwater fly fishing, river and sea fishing, canoeing, surfing, boat-based dolphin watching and other water sports. It is a haven for snorkelling and scuba diving enthusiasts. Apart from the coins, crockery, cannons and other relics to be discovered, divers can also view the bounty of sea life here.
Greater Addo
Topped by citrus village of Kirkwood and meandering down to the thorny bushveld of the famous Addo Elephant National Park, the Greater Addo Route also includes the thorny Noorsveld around Darlington Lake and the bleached dunes of Alexandria. The region is a gem of diversity and located just 40 minutes drive from Port Elizabeth.
The region includes attractions such as the Greater Addo Elephant National Park that incorporates a 120 000ha marine reserve to form the world's first Big Seven Reserve (Southern Right Whales and Great White Sharks have been added to lion, leopard, rhino, buffalo and elephant).
The park's 400 or more elephants are descendants of just 11 refugees from the ivory carnage of the 1970's. The route also incorporates the Alexandria dunefields, the largest shifting dunefiels in the Southern Hemisphere.