Colchester is located on the Sundays River. The river meanders between the villages and the famous Alexandria Dune Fields, as it makes its way to Algoa Bay. Activities include walking in the dunefields, cruising on the Sunday's River, or a private safari tour at the Schotia Game Reserve.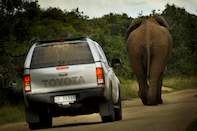 ©Jacques Marais
Self-drive in the Addo Elephant Park.
The Addo Elephant National Park incorporates a 120 000ha marine reserve to form the world's first Big Seven Reserve (southern right whales and great white sharks have been added to lion, leopard, rhino, buffalo and elephant). You can explore the park by yourself, or go on a number of guided tours with park rangers.
The Sundays River Valley is renowned for its verdant citrus trees, rich history and diverse culture. Travel through the valley where you can explore Zuurberg Mountain, visit the snake and reptile centre at Lenmore or an organic lemon farm.
Kirkwood is Nestled in the shadows of the Rietberg, this vibrant country village is the starting point of 4 x 4 trails, adventure routes and home to an extreme diversity of fauna and flora. Do the Nkosi Township tour to Machaba soup kitchen and visit the Xhosa mud houses at Moses Mabida, or travel to Enon and visit the Moravian Church. Visitords can also explore Addo's Kabouga Gate section and visit the Daniell Cheetah farm
Darlington Lake rises out of the Karoo like an oasis and is silhouetted against the backdrop of the Zuurberg Mountains. Visit the Koffylaagte Game Reserve that owes its name to its colourful history as the resting place of the early settler traders. The reserve boasts an abundance of wildlife with some 20 species of South African antelope, Cape Buffalo, Giraffe and Zebra breeding programs.