Borne out of ceramic art, the textiles and furniture from Ardmore Design follow the same naturalistic motifs as founder, Fée Halsted, has envisioned for her brand.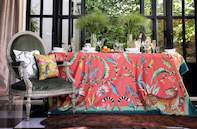 ©Ardmore Design
Ardmore Design, sister company of Ardmore Ceramic Art, was conceived in 2011 following a discussion between founder Fée Halsted, and her son, Jonathan Berning along with the financing of the Business Trust's Shared Growth Challenge Fund. The creative duo formed Halsted Design and later renamed the company after the Ardmore Farm in KwaZulu-Natal, where the brand first started.
"We needed to bring back shape, colour, pattern and humour that add comfort and sunshine to the home," says Catherine Berning, designer at Ardmore Design.
Looking to share African art with the world, Ardmore Design repurposes patterns from their ceramic and fabric ranges to create furniture and homeware that makes exciting and intriguing visual impacts on spaces they occupy.
Ardmore Design is internationally recognized and their collections and ceramic pieces form part of some of the most prestigious public and private collections across the globe. Their work is often given as state gifts to visiting leaders, including the likes of Bill Clinton, Queen Elizabeth II and Empress Michiko of Japan.