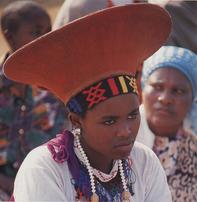 ©Dr Peter Magubane
The head-dresses of married women, which are now generally detachable, have on occasion been appropriated by non-traditionalists seeking to signal pride in their cultural heritage.
In the past rural women usually affirmed their marital status through the adoption of permanent head-dresses fashioned in part from their hair.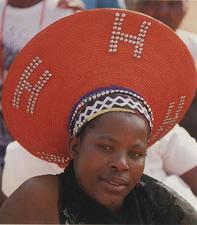 ©Dr Peter Magubane
The head-dresses of women from KwaZulu-Natal usually flare upwards from a decorated headband signifying their respect for their husbands and parents-in-law.
Metal studs are commonly used to decorate head-dresses like these.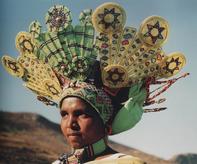 ©Dr Peter Magubane
Contemporary head-dresses from the Valley of a Thousand Hills include multiple discs and fan-like structures. Now commonly made from plastic beads, these head-dresses are far more elaborate and colourful that examples from other Zulu-speaking communities.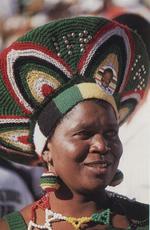 ©Dr Peter Magubane
Head-dresses worn by Zulu women from KwaZulu-Natal's Tugela Ferry region differ markedly from those found in the Valley of a Thousand Hills near Durban.
In some cases, colour and other decorative embellishments are used to signify the woman's support for prominent politicians like Chief Mangosuthu Buthelezi.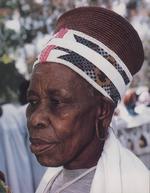 ©Dr Peter Magubane
The head-dresses worn by women of the Ibandla lamaNazaretha (independent Shembe Church) are usually covered in bands of beadwork. Bead specialists sell items like these at the annual festivals held at the headquarters of the church in Inanda, close to Durban.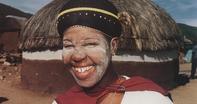 ©Dr Peter Magubane
Betrothed women from rural Zulu-speaking communities who are about to leave home cover their heads with hair nets and commercially manufactured hairpins.