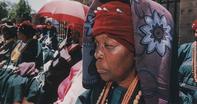 ©Dr Peter Magubane
Among Pedi women, carefully chosen colours and textures are juxtaposed to fashion elaborate headscarves from patterned cottons and plain, but softly-textured velvet cloths.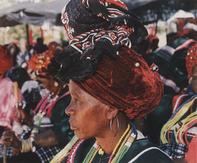 ©Dr Peter Magubane
In contrast to the spectacularly coiffed headscarves worn by married Pedi women on special occasions, their day-to-day clothing includes modest scarves which are still commonly worn out of respect for their husbands and the ancestors.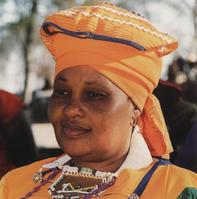 ©Dr Peter Magubane
South Sotho women sometimes fashion their headscarves to form hat-like structures. Considerable skill is needed to form these ornate styles, which are generally chosen with a view to complementing the colour or design of their dresses and other important accessories like beadwork.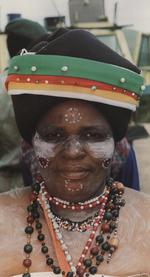 ©Dr Peter Magubane
Among Xhosa-speaking communities, women not only wear elaborate headscarves, but also decorate their faces with white ochre. These designs include dotted circles associated with notions of social and ritual purity.
Sewing for Success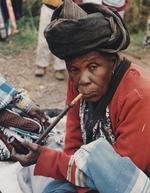 ©Dr Peter Magubane
Head scarves worn by Xhosa women from the Eastern Cape are generally decorated with carefully spaced parallel lines stitched in white cotton against a dark blue, green or brown background. Produced with the aid of hand-operated sewing machines, these scarves are increasingly commonly sold as tablecloths and wall hangings in curio shops located in major urban centres such as Cape Town.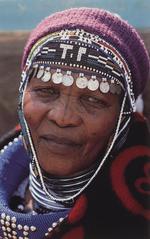 ©Dr Peter Magubane
Ndebele women generally decorate their heads with beaded bands. Coins are commonly used to add fringes that animate the face and jangle when shaken.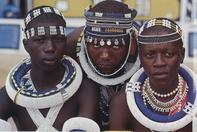 ©Dr Peter Magubane
The bands worn by male initiates on their return to the community are sometimes similarly decorated with old coins. Only some beadwork items used to highlight the gender or the age of the wearer.By
Professor Sandra Klopper