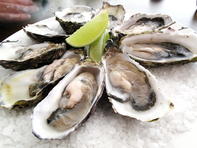 © Guido
The Pacific oyster is used for oyster farming n South Africa.
In South Africa, only the Pacific oyster is farmed on marine aquaculture farms on the coast of the Northern Cape, Western Cape and Eastern Cape Provinces.
An oyster hatchery in the Northern Cape breeds seed oysters, but imported oyster spat is mainly used. Oyster farming in South Africa uses longline systems for grow-out of oysters and supply the majority of oysters as live product to South African markets. South African oysters are also exported to Asia (Hong Kong) and Africa (Zambia).