Silent Northern Solitude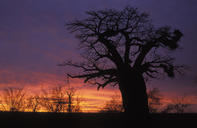 ©Nigel Dennis
Baobab at sunset, Kruger National Park, South Africa.
To be truly alone in Kruger, head up to the park's quieter northern reaches-it's here that animal tracks outnumber vehicle tracks. Turn off the ignition and let your senses soak up the atmosphere.
Some of the continent's grandest trees, baobabs, took root 4 000 years ago near Punda Maria. View them against a fiery African sunset.
Checking Crooks Corner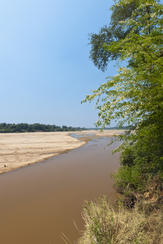 ©Roger de la Harpe
View of Limpopo River at Crooks Corner, Pafuri, Northern Kruger.
Go a little further than the well-driven roads of Kruger's south and you'll find quiet Crook's Corner wedged between the Luvuvhu and Limpopo rivers. It's the wildest place in the park — where robbers used to hide out — and is the border between South Africa, Mozambique and Zimbabwe.
Lanner Gorge rises above the Luvuvhu River in the quiet northwest corner of Kruger. It's a gathering of ancient, steep sandstone cliffs and pools, and ideal vantage points from which to watch fish eagles and other raptors glide by.
Pafuri Picnic Site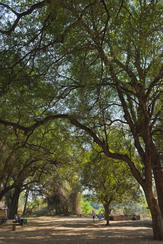 ©Roger de la Harpe
Pafuri Picnic Spot, Northern Kruger.
Head for the area around Pafuri picnic Site where many birds reach the southern limits of their range in the areas tropical riverine forests, for birding lifers such as mottled and Bohms spine tails, wattle-eyed flycatchers, Cape parrots and lemon-breasted canaries.