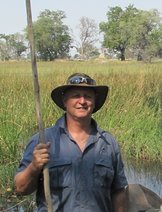 David Bristow is a photojournalist and one of South Africa's most experienced nature and environmental travel writers. Bristow earned an honours degree in journalism at Rhodes University, and started as a journalist in Johannesburg, working for The Star and The Sowetan before realising a desk job was not his destiny. He then went on to become a full-time travel photojournalist.
After serving as editor of Getaway travel magazine for 14 years, he took a three-year sabbatical to complete a master's degree in environmental sciences. David Bristow is the author of more than 20 books, including works such as: Been There Done That, Running Wild, Riding the Dragon's Spine and Best Hikes in South Africa. Bristow has travelled from Antarctica to Alaska, Hillbrow to the Himalayas, and through South Africa, Zimbabwe, Botswana and Kenya, to name a few.
David Bristow has an abiding passion for all things pertaining to nature, culture, travel, history, Africa and anything else interesting. David lives in Cape Town with his partner, where he is the pre-eminent storyteller of the Cape – dramatic stories, horror stories, love stories; stories about the places and people who created the Cape. Interwoven with all this will be current issues, international trends and local anecdotes – name it and he'll provide the details.