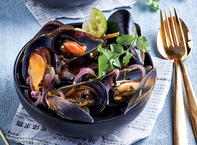 © Blue Ocean Mussels
Black mussel farming is a big industry in South Africa, producing a nutritious high-protein source of seafood.
Mussel farming in South Africa is based on two mussel species, the indigenous black mussel and the exotic Mediterranean mussel. This industry contributes about 50% to South Africa's marine aquaculture production and is based in Saldanha Bay on the West Coast of the Western Cape.

South Africa exports mussels mainly to other African countries such as Namibia (50%) and Mauritius (20%) and imports mussels mainly from China.