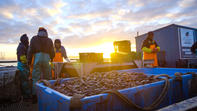 © Blue Ocean Mussels
Black mussels harvested in Saldanha Bay, Marine aquaculture in South Africa.
Aquaculture is the production of plants (seaweed and kelp) and animals (fish, shellfish etc) in water. Marine aquaculture or mariculture implies the use of saltwater or seawater in these production systems.
World Aquaculture Production
The majority of the world's aquaculture products are produced in China, 60%, and five other countries in Asia - in total producing 86%. In contrast, marine aquaculture in sub-Saharan Africa has grown slowly and only managed to produce 1% (550 000 tonnes) of world aquaculture products. Almost all of it was freshwater aquaculture species - catfish, tilapia and Nile perch. Marine aquaculture in Africa produced about 10 000 tonnes (2014). This is mostly made up of prawns from Mozambique and abalone, oysters and mussels from South Africa.

According to statistics from the 2016 Aquaculture Yearbook compiled by the Department of Agriculture, Forestry and Fisheries (DAFF), marine aquaculture production in South Africa has increased by 240% from 2000 to 2015. The total yield of around 3 600 tons marine aquaculture products consists of abalone (Haliotis midae), Pacific oyster (Crassostrea gigas), mussels (both Mytilus galloprovincialis and Chromomytilus meridionalis), dusky kob (Argyrosomus japonicas) and seaweed (Ulva and Gracilaria species).

Marine aquaculture in South Africa is focussed along the coast of Western Cape, Eastern Cape, KwaZulu-Natal and the Northern Cape.
Marine Aquaculture Products of South Africa
Black mussels are sold as whole shell, half-shell or frozen meat-only. They can be individually quick frozen (IQF) or vacuum-packed. Mussels can also be further processed into products, such as crumbed garlic mussels. White mussels are mostly used as bait.

Finfish are sold fresh, packed in ice and shipped whole.

Kelp and the green seaweed Ulva, are one of South Africa's most important aquacultural products. Kelp is used as a feed source for abalone, for biofuel and the production of plant growth stimulants, while Ulva is used as an integrated product in abalone farming for supplementary feeding of abalone.
Mariculture Farming Systems
Molluscs - mussels and oysters - are farmed on longlines or rafts, while abalone is farmed in tanks on abalone farms, with seawater circulating continuously. In Japan, abalone is also farmed in a system called ranching, where each farmer owns a piece of coast, where abalone is farmed in the sea. This system of farming abalone has been introduced in the Eastern Cape, to re-populate depleted abalone stocks in the ocean.

Dusky kob can be farmed in cages, in semi-closed ponds and in fenced-off stretches of rivers, but is mostly produced in land-based open ponds on through-flow systems. Wild kob is often caught as bycatch in trawl fishing for hake. Farmed kob is often smaller than their wild brothers. Kob is produced in a community project in Hamburg, 60 km from East London in the Eastern Cape. The 2-hectare site can produce 20 tons of dusky kob per annum and yielded 989 kg in the first harvest in 2015. The average weight of fish was about 1.1 kg. It is still in a pilot phase.

Commercial prawn production stopped in 2004, because of price competition by imported prawns from India. In addition, South Africa's climate can only yield one crop per year, while prawn farmers in warmer climates can produce two batches of prawns per year.

White mussels are not farmed commercially in South Africa, but wild-harvesting of white mussels is done by subsistence farmers, mainly to serve as bait for line fishing.

In South Africa, about 7 600 tonnes of seaweed were wild harvested compared to 2 000 tonnes farmed seaweed.
By Marinda Louw
For bulk or export enquiries please use the enquiry link below.