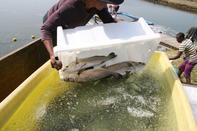 © Zini Fish Farms
Dusky kob are harvested from an earthen pond in KwaZulu-Natal.
In South Africa, the following marine finfish species are produced: dusky kob, spotted grunter, Mozambique tilapia, marine trout and Atlantic salmon. In addition to these, saltwater tilapia may become an interesting and sustainable opportunity.
The farming of marine (seawater) finfish species is limited in South Africa, mainly due to a need for investors who understand the long-term nature of fish farming in South Africa, complicated administrative procedures and limited suitable fish farming sites.
Marine finfish production contributed only 4.1% to total mariculture production in South Africa (2013 figures).
Production Systems for Finfish Farming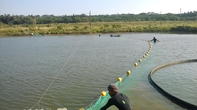 ©Zini Fish Farms
In land-based finfish farming systems such as this earthen pond at Zina Fish Farms in KwaZulu-Natal, fish are gathered with large nets before harvesting.
Production systems for finfish can range from land-based to ocean-based systems. In the below overview, the various marine farming systems are grouped together: Currently dusky kob ('dagga salmon'), spotted grunter and tilapia can be grown in land-based open ponds in through-flow systems. Dusky kob can be farmed on a semi-commercial scale in recirculating aquaculture systems (RAS), and in earthen ponds, and can be farmed along the entire eastern coast of South Africa.
A small government-managed pilot facility near Hamburg, in the Eastern Cape, produces dusky kob in recirculating aquaculture systems (RAS). An environmental authorisation has been granted by for the expansion of the Hamburg facility to produce 1000 tonnes.
Marine trout (Oncorhynchus mykiss) and Atlantic salmon are allowed to be grown in sea-cages in Saldanha Bay.
The indigenous Mozambican tilapia (Oreochromis mossambicus) is produced in saltwater earthen ponds in KwaZulu-Natal. Locally-manufactured feed and green water feeding are used, thereby reducing feed costs.
Marine Finfish Farms in South Africa
Despite a long coastline, the farming of finfish in South Africa is suited to a few specific sites. Finfish farming in South Africa depends on water temperature, nutrients, wave action, permit allocations, adherence to environmental requirements and restrictions.
A number of 'Aquaculture Development Zones' (ADZ) have been declared, where certain marine species may be farmed, but a lack of investment has delayed commercial marine aquaculture in these areas.
In 2012 the Qolora land-based Aquaculture Development Zone (ADZ) in the Eastern Cape received authorisation to farm a variety of marine species such as yellowtail, kob, abalone, seaweed and other marine species. At present, there has been no development in the 7.4 ha production area. The Department of Agriculture, Forestry and Fisheries (DAFF) is looking for a suitable investor.
On the completion of the environmental assessment, the Algoa Sea-based ADZ, in the Eastern Cape, will be allowed to produce yellowtail, silver and dusky kob as well as indigenous finfish species such as white stumpnose, white steenbras, East Coast sole, yellowfin tuna and red roman. Bivalves allowed here include mussels and oysters.
Atlantic salmon and ocean trout are allowed to be farmed in Saldanha Bay on the West Coast of South Africa while dusky kob, spotted grunter and saltwater tilapia are farmed in the warm climate of KwaZulu-Natal Province.
In 2015 the Department of Science and Technology (DST) and Stellenbosch University (SU) tested the feasibility of farming dusky kob in sea cages in Richards Bay in KwaZulu-Natal. Twenty-two tonnes of dusky kob were harvested in 2017. Fish size ranged from 1.1 to 1.6 kg. As yet (2019) the project has not been commercially successful.
Two other land-based dusky kob farms near East London produced high-quality fish, but production costs necessitated a selling price too high for the local commercial market. These two farms have since shut down.
By Marinda Louw