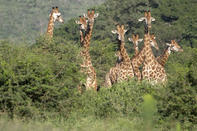 © Peter Delaney
The only other member of the giraffe family is the Okapi which is found in the Democratic Republic of Congo.
Size
Males ave 4-5,5 m tall (max 6 m); females ave 3,5 –4,5 m tall
Weight
Males 970-1400 kg; females 700-950 kg
Lifespan
About 25 years
Habitat
Open woodland, dry savanna, sometimes light forest and desert areas but not high mountains or forested country
Gestation
15 months (457 days)
The only ungulate species with a gestation period of more than one year!
Number of young
1
Food
Feed on deciduous foliage in the rainy season and rely on evergreen species at other times. Consumes 34 kg/day.
Predators
Lions and hyena (especially the young).
Did you know?
Giraffe are believed to be the mammal pollinator of the knob thorn tree Acacia nigrescens.
By Megan Emmett