Part of the Big 5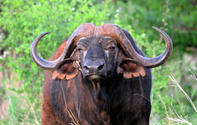 ©Karl Svendsen
The Cape (or African) buffalo is an enormous and formidable bovid with a reputation for a dangerously moody temperament. Their size, strength and propensity to charge determinedly without warning have resulted in their inclusion in the 'BIG 5' – the top African animals to see in Africa. It is also considered the most dangerous of the five to hunt.
Syncerus Caffer
©Shem Compion
Size
1.4 m shoulder
Weight
Males: 800 kg
Females: 750 kg
Lifespan
23 years
Habitat
Wide range – wherever there is suitable forage, access to water and shade
Gestation
11 months
No. of young
1
Food
Bulk grazers – prefer long grass. Take small amount of browse in dry times.
Predators
Lions and humans
By Megan Emmett