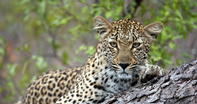 What is the difference between a tented camp and camping accommodation?
Unlike spartan camping in 2 man dome tents or bivouac tents, tented camps, if they are not luxurious, still provide a fairly moderate level of comfort. Situated on a raised platform deck, there is no possibility of rain water running into the tent.
The tent also has its own shower and ablution facilities. Basically everything you would have in a 3 to 5 star hotel room, except for the bar fridge and electricity. (In some instances you may even have these.)
Why should you go camping on safari?
There are only two reasons to go camping. You like camping and are a camping fanatic or your budget does not allow for better accommodation. A safari is a demanding experience - not a stroll in the park.
And some safaris offer the Real safari experience, which by its very nature often requires that you will be sleeping in a tent. Camping generally entails a cramped tent with little or no standing room and if you are lucky you can sleep on a stretcher, rather than on a thin foam mattress on the ground.
Either way you will be in a sleeping bag. Luke warm out door showers and not so pleasant toilet facilities round off what promises to be an unpleasant experience unless you like camping.
Nonetheless, it is Africa. There is only two millimeters of fabric between you and the wilderness. The sounds of the wildlife at night and the smells of the open bush are more immediate than being in a safari lodge.
What should I spend on a safari?
For some people a safari is a once in a lifetime experience, so plan to make the most of it. Degrees of expense apply to style of accommodation or remoteness of location. A mobile camping safari deep in the savanna can cost the same as a stay at an easily accessible 5 star game lodge.
Between these two extremes of comfort and experience - lies everything else: cheaper game lodges or tented camps. And finally there's your regular el cheapo 2 man tent on a serviced national park campsite.
Why would I want to fly-in to a safari lodge?
Fly in safaris save you a lot of time. Some lodges are so remote that, that a chartered light air craft flight is the only practical way to get to them. Unless you want to spend 8 to 15 hours driving. Which is no holiday, nor a great way to start a safari.
Some safari itineraries provide for transfer between two or more game lodges, while others provide a flight into and out of a particular region, while the safari itself is conducted in a vehicle, shuttle or 4x4.
What is the benefit of a self-drive safari?
When you are going to spend more time looking at where you are going, and less time looking for the elusive wildlife - it is difficult to see any benefit other than you have your own time table.
Also, unless you are knowledgeable about the habits of several, many or all wild animals and birds - like a qualified safari guide for example, you lose out on gaining any insights from your experience.
And lastly, and most importantly, unless you have a base camp to radio for assistance in the event of a mechanical breakdown in the middle of nowhere, like your safari guide would...well need we say more? Not to mention getting lost in an area that you are not familiar with.
Why would I want to do a short safari?
While a long safari is preferable to a short safari, a short one is better than no safari at all. For example, if you are on a business trip in a major city and you can get to a game lodge in only three hours, build a few extra days into your trip so that you have a couple days to spare for a safari, do it. You may never have the opportunity again.
How do the seasons affect my safari experience?
More than summer or winter, Africa experiences rainy and dry seasons - each of which has its rewards and drawbacks. With slight regional variations, the impact of rainfall while you are safari depends on what you want to see. Remembering that grazers and browsing herbivores subsist on vegetation which depends on rainfall.
Rainy season - The up side: Grasslands are lush and green rather than parched yellow and brown, and this is the peak migratory period when migratory animals are in abundance.
Rainy season - The down-side: Torrential downpours means that dirt roads become muddy and travelling becomes hard, and sometimes impossible, even for 4 x 4 vehicles. In some regions the grass grows so tall, or the bush so thick that it can hide even rhinoceros and elephant .
Dry season - The up-side: The weather ranges between ideal and extremely hot. Migratory animals, now easier to see as the vegetation thins out, are still around but not in those same numbers.
Dry season - The down-side: This is the most popular tourist season, when bookings become scarce, prices are higher, and there are often other safari vehicles in the backgrounds of your photos.
Find out as much as you can about the country and the area where you will be going on safari, because the more you learn before leaving for your safari, the more you will enjoy your safari.
Can I take my children on safari?
This will depend on the itinerary, the location and the ages of the children. The game lodge or the safari itinerary will mention a "Child Policy". Some establishments and operators can accommodate children with certain stipulations. Others will refuse outright. Generally safari operators will not take children who are below the age of 16, or 14, or 12.
For obvious reasons.. While safaris are not dangerous for the participants, they are only so if a certain safari etiquette is observed. Children being what they are, are prone to the normal childhood accidents They are also prone to disregarding parental instruction.
Out in the middle of nowhere, with roaming predators about, is not where these things can even have the possibility of happening, so the operators, in the interests of your safety ( as well as avoiding law-suits and unpleasant media attention), will rather decline the tour.
What are the Do's and Don'ts regarding being on Safari?
Your guide will always conduct a safety briefing with you. Wildlife is potentially dangerous, however, just stick to what you guide tells you and you have very little to worry about. Respect your driver / guide's judgment about your proximity to certain wild animals.
Don't insist on taking the vehicle closer so you can get a better photograph. Driving too close can hinder a hunt, or cause animals to abandon a hard-earned meal. Never try to attract an animals attention - this could provoke an unpredictable response and a potentially dangerous reaction.
Wildlife is more familiar with people and less intimidated by your presence, at such places as viewpoints, hides or camps. Never attempt to feed or approach any wild animal on foot. This is especially important near lodges or in campsites where animals may have become accustomed to human visitors. Never attempt to feed any animals, as this can cause them to lose their fear of humans.
Creepy Crawlies
Africa is home to a number of potentially dangerous species, such as snakes, scorpions, spiders, and insects, yet very few visitors are adversely affected. Snakes tend to be shy, and generally stay away from built-up areas.
Nonetheless, being on holiday is no excuse to be unaware of your surroundings and watching where you walk. If you go on a walk, it is always a good idea to wear comfortable, enclosed walking shoes or hiking boots, socks, and long trousers - just as a precaution. Lodges and camps generally have insect (especially mosquito) proofing in their rooms and tents.
What is the typical size of a tour group / safari group?
Difficult question? How big are the tour vehicles?
On overland tours
An expedition truck can carry up to 30 people (back packers), but normally there will be 12 - 18 passengers.
On safari
A four wheel drive vehicle might carry 5 people, including the driver. Or if it is a land-rover, 9 passengers, as well as a driver and safari guide.
If you are travelling single or with a friend/partner - you could be forming part of a group made up by the operator. In Kenya and Tanzania, safaris are conducted using mini-vans, with pop up viewing roofs as a means of really protecting the passengers.
These vehicles can carry up to 8 passengers. Based on this, if you are doing a group booking for yourself, you can work out how many vehicles and drivers will be at your service. Or even, how many you would prefer.
What should I wear / pack for a safari?
The important thing to remember is to travel light when packing for an African safari trip.
What is the general fitness level requirement for a safari or tour?
If you can climb stairs, walk, bend, carry your luggage out of your house to your car, get through the air flight to Africa...carry your binoculars and camera onto the safari vehicle, then you can go on safari.
It goes without saying that you will definitely be smoking less, you cannot smoke on a safari vehicle or on a walking trail. In fact, depending on the lodge or camp, you may find that you may only be able to "smoke in a designated area". So you could well be a bit fitter when you leave, than when you arrived. Which is a good enough reason to participate in as many of the activities as you can manage.
What is the food / cuisine like?
A five star safari lodge will have a 5 Star chef and 5 star cuisine - fine wines and everything that goes with. So at the 3 star level, it is as good a 3 star hotel. But remember that the lodge or camp is in the middle of the bush and distant from any town.
All the food has to be trucked in across long distances and rough terrain. What is usual is that food is freighted in in bulk, and kept frozen. (You never know when roads may be rendered impassable).
You can occasionally receive the same meal, slightly modified, on successive menus, if you stay long enough, but this is a small price to pay for the experience of being on safari. If you are heading for one of those exclusive safaris in the deep bush - you may keep in mind that the experience of the safari is not in your meals which will be basic, but nourishing.
Any seasoned safari traveller will tell that the safari is "the thing" - and if you are going to be picky about variety of your diet - then you will never become seasoned.