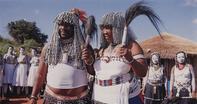 ©Dr Peter Magubane
Throughout South Africa, ritual specialists wear white, black and red beads to signify the presence of the ancestors, who play a crucial role in mediating between the living and the dead. Ritual specials communicate the needs of the ancestors to their clients, thereby ensuring the well-being of the living.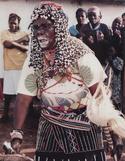 ©Dr Peter Magubane
Especially among Zulu-speaking communities, ritual specialists also signal their powers of communication by wearing real of fake leopard skin garments. This practice is particularly common among male specialists who additionally wear garments normally associated with women. Enhancing ritual efficacy through cross-dressing is common throughout Africa.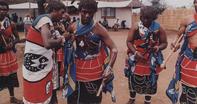 ©Dr Peter Magubane
Male ritual specialists usually adopt hairstyles similar to those of female specialists. These specialists often either grow their hair long or wear beadwork braids in emulation dreadlocks, which are commonly understood to facilitate communication with the ancestors.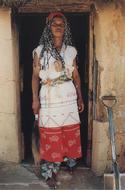 ©Dr Peter Magubane
In addition to beaded head-dresses, ritual specialists use accessories like fly whisks and leather aprons to underline their capacity to mediate with the ancestors.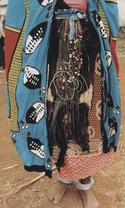 ©Dr Peter Magubane
It is fairly common for ritual specialists to layer their garments, drawing on the symbolic currency of different items to enhance their powers of communication with the ancestors.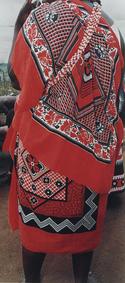 ©Dr Peter Magubane
Ritual specialists wear commercially produced cloths printed in red, white and black to draw attention to their status. In contrast to the symbolic significance attached to these colours, the patterns on the cloths generally have a purely decorative function.