Letters and Words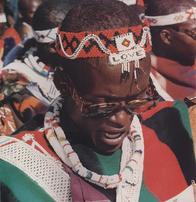 ©Dr Peter Magubane
Rural traditionalists frequently add letters and words to their beadwork garments. There are various reasons for this, but it may convey affection in the case of mothers of South Sotho initiates.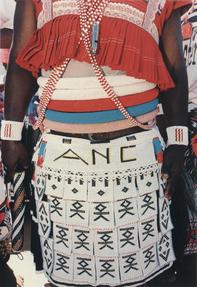 ©Dr Peter Magubane
Since the African National Congress came to power in 1994 it has become common for people to declare their support for this organization through beadwork. Local loyalties are also sometimes signalled in this way. In the 1990s, BaNtwane initiates often paid homage to their chief, Mohlamme (Piet) Mathebe, who was for a long time an ANC member of parliament.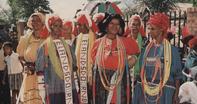 ©Dr Peter Magubane
BaNtwane women sometimes weave words into the beaded panels worn at initiation and other ceremonies. In some cases, references are made to particular individuals like the BaNtwane chief, Mohlamme Mathebe, a former ANC operative who trained in Tanzania before serving as a member of parliament in post-apartheid South Africa.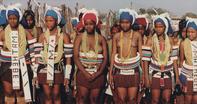 ©Dr Peter Magubane
The use of words in beadwork is common throughout South Africa. Among some communities, they are included to indicate the region or village from which the wearer hails. Others weave proverbs into beaded garments to signal pressing concerns or aspirations.
©Dr Peter Magubane
Beadwork panels are also decorated with individual letters and abstract patterns not intended to communicate a message or meaning.By
Professor Sandra Klopper