Different Vibes
Cape Town has various pockets of art scenes spread across the city - you won't find the same vibe on two sides of the same street!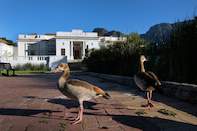 ©Eric Miller
There are galleries, museums and little gems where tourists will find something they like, whether it be bold and eclectic, Victoria era-inspired, modern and controversial, or just a colorful graffiti tag on the side of a building.
For those who want to explore the city's fine art scene, leave the craft markets for another day and head out on a day trip to the museums and galleries that showcase both local and international artists' work. There are spots to see anything and everything - Warhol-inspired pop-art, controversial impressionist sculptures, post-modern commentary on local social issues, and traditional African artwork.
Zeitz MOCAA
Zeitz Museum of Contemporary Art Africa is a one-of-a-kind showcase of art, set within an unusually beautiful space at the V&A Waterfront. It is a contemporary art museum that curates 21st century art from Africa and its diaspora, as well as international exhibitions.
The museum is a visual masterpiece; built in an old grain silo in the Grain Silo complex of the Waterfront, the organic design of the building itself is a showpiece that visitors can get lost in for hours. The galleries, spread over several floors, are dedicated to a large cutting-edge collection of exhibition galleries. It is also home to Centres for Art Education, Curatorial Training, Performative Practice, Photography, and the Moving Image.
A visit to Zeitz will amaze, inspire, shock and evoke various emotions from both avid art-lovers and tourists looking to explore local art. The top floor of the museum is a glass ceiling that holds beautiful sculptures, and guests are encouraged to walk through the space and feel the immense power and inspiration that art brings to the world.
South African National Gallery
The Iziko South African National Gallery is located in the Company's Gardens smack in the middle of the city centre. Surrounded by lush trees, gardens and various water birds, the gallery is a popular stop for both tourists and locals who appreciate art. It is home to collections of South African, African, British, French, Dutch and Flemish art.
There are both permanent and temporary collections consisting of paintings, works on paper, photography, sculpture, beadwork, textiles and architecture. It is a sensory experience to walk past a life size sculpture or woven pattern that drapes across the entire floor, while eerie music plays in the background from a documentary of a visual art piece.
The gallery aims to create a space for our diverse heritage and art inspirations, as the country has a strange yet fascinating history of art that dates back to ancient times.
First Thursdays
Every first Thursday of the month, the Mother City lights up every gallery in the city centre - groups of hipsters, young art students and other crowds mosey down the various streets of town in search of the next gallery to view. Popular stops include Michaelis Gallery in Orange Street, 99 Loop Gallery, Mullers Gallery in Longmarket Street and The Cape Gallery in Church Street. Most galleries exhibit local contemporary art, as well as international collections.
Most restaurants in the area are open to patrons with special First Thursday offerings, and if you want to be on the safe side, you can plan your route according to the gallery and bar. There are new exhibits to see every month, so if you are looking for something fun and educational to do after pay day, Cape Town's First Thursday event is where it is at.