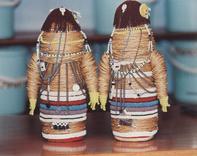 ©Dr Peter Magubane
A long-standing tradition prevails among South African communities of making dolls from beads and other locally available materials, for instance, woven grass. Although some of these are used as toys, by far the majority are associated with fertility rites.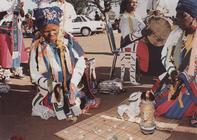 ©Dr Peter Magubane
Fertility dolls, like those made by Bantwane women, are used at wedding ceremonies to divine the bride's chances of having children. In most rural communities, husbands still ascribe enormous value to wives who bear a large number of offspring.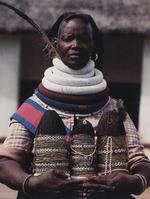 ©Dr Peter Magubane
Some dolls continue to be used in ritual contexts. Because dolls like these are prized by collectors, some dealers have commissioned replicas for sale to outside buyers, leading to confusion in the African art market, which places a high value on authenticity.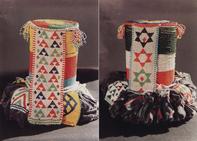 ©Dr Peter Magubane
Because most fertility dolls are covered in beads, the core remains invisible. This core may consist of a variety of materials, such as maize cobs, clay or even, in recent years, jam containers and other recycled objects. The use of some of these materials is informed by symbolic considerations, notably the need to underline associations with nature and therefore fertility.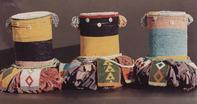 ©Dr Peter Magubane
The skirts in which Tsonga dolls are dressed are similar to the layered cloth skirts that are worn by married Tsonga women. They are decorated further with beadwork panels identical to those worn by Tsonga women on special occasions. However, they differ from most other local examples in that they either lack facial features or have features that indicated very simply through the addition of three buttons.By
Professor Sandra Klopper