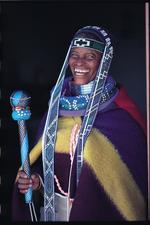 ©Dr Peter Magubane
The materials traditionalists use are often remarkably inventive. Ndebele women commonly make richly decorated ornaments with the aid of metal studs.
©Dr Peter Magubane
The beaded blankets made by Ndebele women are still worn on special occasions. Decorated with distinctive patterns similar to those found on Ndebele mural paintings, they are now worn together with accessories such as mirrors. Hybrid dress styles like these, first adopted by women in the mid-19th century, underline the remarkable creativity and inventiveness of traditionalists living in rural South Africa.
©Dr Peter Magubane
Ndebele women frequently modify hats and caps purchased from stores by adding beadwork and other details to them.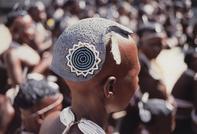 ©Dr Peter Magubane
In the past, married Zulu women plaited their hair, using ochre and sticks to form elaborate hairstyles. Detachable headdresses emulating these former styles have become increasingly fashionable since the 1980s. Purchased from specialist producers, it is usual for headdresses like these to be decorated with studs.
©Dr Peter Magubane
To this day, Bantwane brides wear ostrich feathers at their weddings. In the 19th century feathers like these were luxury items acquired through long-distance trade.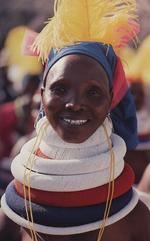 ©Dr Peter Magubane
Historically, Bantwane women made beaded head ornaments, worn as decorative accessories on ritual occasions. In addition, they commonly inserted locally sourced feathers in their headdresses.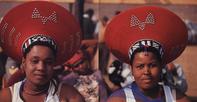 ©Dr Peter Magubane
It has now become increasingly common for Bantwane women to decorate their heads with found objects like coins, the metal accessories from cars and plastic hairpins. Brightly wrapped sweets are also used for this purpose.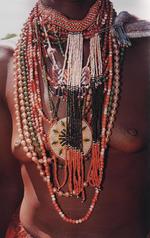 ©Dr Peter Magubane
Common accessories such as safety pins are often attached to beadwork items. Add-ons like these have the important function of jingling when the wearer dances.By
Professor Sandra Klopper