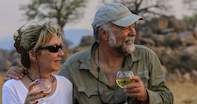 © Roger de la Harpe
Roger and Pat de la Harpe are a photography, videography and writing duo who regularly venture into Africa in pursuit of African imagery and stories for publication. The de la Harpe duo left behind careers of engineering and commerce to expand their shared passion for natural history, wild places and different cultures.
They have been involved with wildlife, travel, conservation and lodge photography for more than 25 years, creating photographs for clients and photo libraries globally. Their work has been featured in various local and international publications including Africa Geographic, Getaway, BBC Wildlife, Wanderlust and German Geo.
They have published numerous books, including In Search of the African Wild Dog and In Search of the African Lion, which has a strong emphasis on conservation. Their limited collector's edition African Icons was published in 2015.
The de la Harpe's live in South Africa and enjoy managing Africa Imagery, a niche image bank of the people, wildlife and landscapes of the African continent.