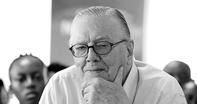 Raymond Louw is an editorial consultant and a freelance writer on media, politics and governmental affairs. Throughout his lengthy career, Louw has been involved in the South African newspaper industry.
In 1946 he joined Rand Daily Mail as a reporter. He then went on to work for various British newspapers from 1951 to 1956. He became the night news editor of Rand Daily Mail in 1957, and the editor of the Sunday Times in 1959. Raymond Louw has had a long and successful career in media and political affairs.
In 1975 he was the chairman of the South African Morning Newspaper Group, before becoming the General Manager of South Africa Associated Newspapers (now Times Media Group Ltd) in 1977. In 1989 Louw reported on the proceedings of the Five Freedoms Forum's visit to Lusaka to meet with ANC members.
Furthermore, he has served as Chairperson of the Campaign for Open Media, Chairperson of the Media Defence Trust, Vice President of South African PEN to name a few.
Louw was also a Fellow of the International Press Institute and is a founder member and current Council member of the SA National Editors' Forum (Sanef). In 2002, he became the Africa Consultant for the US-based World Press Freedom Committee, and was the Chairman of the SA Press Council from 2008 to 2013, now Deputy Chairman.
Raymond Louw personally founded and directed a Media Business Training Foundation, whereby black aspirant business journalists are trained at the University of Witwatersrand Business School. This initiative resulted in an expansion of business pages in newspapers specifically aimed at the African market.
Louw is also a trustee of the Institute for the Advancement of Journalism, and has lectured at some of their training courses. Louw has won numerous awards for his work, including the Pringle Medal for services to journalism by the SA Society of Journalists, the Media Institute of Southern Africa's Media Freedom Award 2005, the Mondi-Shanduka Newspaper Lifetime Achiever Award in 2007 and the International Press Institute award for Press Freedom Campaigning in Vienna, Austria in 2010.
In 2012, he received an honorary doctorate of literature by Rhodes University and in 2015 an honorary doctorate of literature by the University of Witwatersrand.
Louw's published works include: Four Days in Lusaka -- Whites from `Home' in talks with the ANC, narrative for Nelson Mandela Pictorial Biography by Peter Magubane and contribution to Man of the People, by Peter Magubane. Raymond Louw lives in Johannesburg and enjoys travel, sailing, hiking, game and bird watching.