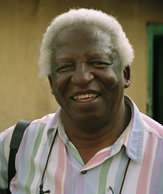 Dr Peter Magubane, an internationally renowned photojournalist, was born on 18 January 1932 in Vrededorp and raised in Sophiatown. He was inspired by photography when his father, a fruit vendor, bought him a Kodak Brownie camera when Peter was a schoolboy.
His photographic career began during South Africa's struggle for democracy. Dr Peter Magubane's professional photographic career began in 1955 after he joined Drum magazine as a driver and messenger. He soon landed a job as a darkroom assistant to Jurgen Schadeberg. His first major assignment was covering the African National Congress' 1955 convention.
He used his camera to take images of the experiences and struggles of black South Africans during apartheid. These images reached the world's media showing them the ongoing injustices that occurred in South Africa at that time. This is the story of a great man who was more hurt that some of his images did not reach the world's media because a policeman forced him to expose his camera film to light than by the fact that the same policeman broke his nose.
Peter was there documenting with his camera the protests against the Pass Laws, the rise of Umkhonto we Sizwe, Nelson Mandela's arrest, the Rivonia Trial, the banning of the ANC, the Sharpeville riots, the rise of Steve Biko's Black Consciousness Movement, and the Soweto student uprisings.
At the Soweto uprising he informed rioting students that "A struggle without documentation is no struggle". As a result of his involvement in the Soweto uprisings, his house was destroyed in a fire and he was detained with fellow black journalists for 123 days.
His application in 1957 to join the all white Photographic Society of South Africa was turned down. The Drum photographers then formed the non-racial Progressive Photographic Society. In 1961. Dr Magubane was the first black photographer in South Africa to hold his own exhibition. His employers at the Rand Daily Mail erected his own darkroom.
The laws of South Africa at the time did not allow him to share the same darkroom as his white colleagues. He was the first black photographer at this publication and was employed there from 1967 until 1980. This included a 5-year banning order until 1975.
During this period he endured 98 days in solitary confinement and six months imprisonment. Dr Magubane also experienced harassment, beatings, buckshot wounds, long periods of arrest and interrogation. He was shot seventeen times at a student's funeral in Natalspruit.
He spent 586 days in solitary confinement in 1969. He hid his camera from police. He would hide it in a hollowed out Bible, inside his jacket, a milk carton or half a loaf of bread. He pretended to eat the bread while taking images. He spent some time in London during the early 1960s and worked for Time magazine between 1978 and 1980.
He also spent some time in New York from 1980. He has also worked for publications such as National Geographic, Life, New York Times, Washington Post, Paris Match and Sports Illustrated. The United Nations has also been one of his clients.
His association with Nelson and Winnie Mandela, both professionally and as friends, began in the 1950s. He was Madiba's official photographer from the time of his release until his early years in the Presidency. Dr Magubane has captured the complex tribal and territorial conflicts following South Africa's transition to democracy.
He then turned his attention to capturing the cultural traditions of post-democratic South Africa. Dr Magubane considers his greatest honour the South African Order of Meritorious Service Silver Class II, presented by President Nelson Mandela. He has been known many times to put his camera aside to stop people from being killed.
For this he was awarded the American National Professional Photographers Association Humanistic Award. He was the first black South African to win Press Photo of the Year in 1958. He holds nine honorary doctorates and has been awarded a Cornel Cappa Lifetime Achievement Award from the International Center of Photography in New York.
Other awards include, the Robert Capa Award, the Special Missouri Honor Medal for Distinguished Service in Journalism, the Martin Luther King Luthuli Award, a Lifetime Achievement Award from the Mother Jones Foundation and Leica Cameras, and a Fellowship by the Tom Hopkinson School of Journalism and Cultural Studies at the University of Wales.
Early awards on home soils included an excellence in journalism award presented by Walter Cronkite and sponsored by Stellenbosch Farmers' Winery. Dr Magubane has twice exhibited 100 of what he considers his most iconic images of Nelson Mandela: once at a United Nations gathering in Poland, where the exhibition was opened by former Polish President Lech Walesa.
The second exhibition has been scheduled for the period 1 July to 30 September 2018 at the Nelson Mandela Gateway to Robben Island. These images were gifted by Dr Peter Magubane to the Nelson Mandela Foundation.