Many indigenous artistic traditions have been adapted to serve the needs of new markets.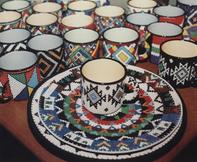 ©Dr Peter Magubane
Today, many beadworkers make or cover functional and decorative items for sale to local and foreign tourists.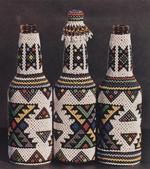 ©Dr Peter Magubane
In the course of the 20th century, a large tourist market evolved on the coastal road near Umgababa south of Durban in present-day KwaZulu-Natal. The producers serving this market are descended from Zulu-speaking communities that were displaced by white settlers entering Durban in large numbers in the mid-19th century.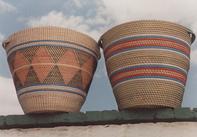 ©Dr Peter Magubane
When items originally intended primarily for indigenous markets are sold to outside buyers, they are often far more colourful than the household and other objects craft specialists make for the day-to-day requirements of local consumers.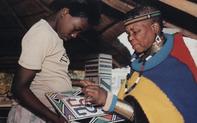 ©Dr Peter Magubane
In the past, acclaimed Ndebele muralists like Esther Mahlangu (top) and Francina Ndimande (bottom) taught girls to paint on portable surfaces. Like their own more complex paintings, these works have found a market among local and foreign art collectors.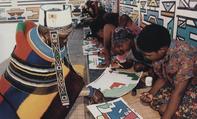 ©Dr Peter Magubane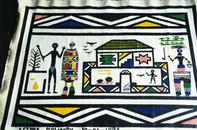 ©Dr Peter Magubane
Decorative tableaux painted on paper or cloth celebrate the richly inventive traditions associated with Ndebele mural arts. Works like these often include references to rituals and various forms of dress related to long established rural practices.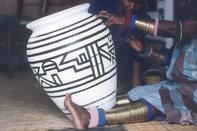 ©Dr Peter Magubane
Some women are able to supplement the income they receive from their migrant husbands by selling pots and other items to exclusive outlets in cities like Johannesburg. But since rural women also till the fields and take responsibility for most other household chores, few make a substantial living from activities of this kind.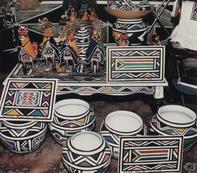 ©Dr Peter Magubane
Instantly recognisable to many local consumers, the designs Ndebele producers use to decorate items like wall panels, beaded dolls, pots and planters became increasingly popular in the course of the 1990s. Women now habitually sign their work, thereby actively affirming their status as artists.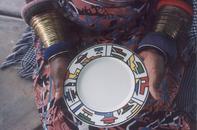 ©Dr Peter Magubane
Like the designs Ndebele muralists paint on their homesteads, those produced for use on commercially manufactured plates are characterized by a reliance on starkly juxtaposed primary colours boldly outlined in black.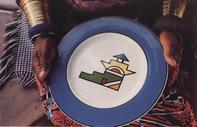 ©Dr Peter Magubane
The plates Ndebele women market are generally covered in abstract patterns, but a few include motifs resembling the double-storey houses and other symbols of material prosperity these women sometimes use to decorate homestead walls.By
Professor Sandra Klopper