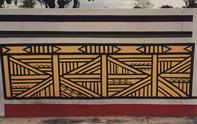 ©Dr Peter Magubane
Although some mural art forms have been adapted to serve new markets, this indigenous artistic tradition is still practised by many rural communities. The techniques and patterns used in the production of these murals vary considerably from one area to another.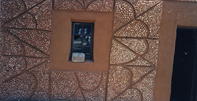 ©Dr Peter Magubane
In some South Sotho communities, women embed pebbles in their mural designs. In addition to creating textured surfaces, these pebbles help to stabilise and preserve the mud walls of their homesteads.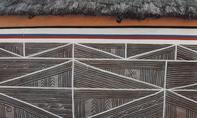 ©Dr Peter Magubane
Following the adoption of commercially available paints in the course of the 1940s, Ndebele mural designs became increasingly bold. Even so, muralists have retained a nostalgic attachment to older styles that rely on patterns created through delicate repetitions of lines and comparative simple motifs.
©Dr Peter Magubane
In the course of the 1980s, Esther Mahlangu started using her skills as a mural artist to paint designs for advertising campaigns, and on commercially made pots and luxury vehicles. In 2018, the University of Johannesburg awarded Mahlangu an honorary doctorate in recognition of the international acclaim her work has attained.By
Professor Sandra Klopper