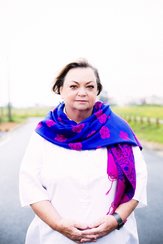 Marian Shinn was born in Bulawayo, Zimbabwe and now resides in Cape Town, South Africa. She attended high school in Bulawayo and wrote her GCE 'O' levels in 1967. Although she has no tertiary qualifications, she has done numerous certificate courses in direct marketing, internet governance in Africa and children and mobile technology.
In 1968, Marian Shinn started working as a journalist on The Chronicle in Bulawayo, before moving to the Rand Daily Mail Johannesburg, South Africa in 1971. Whilst working for The Star in 1976, Marian Shinn was one of the prominent journalists who wrote on the 1976 Alexandra Uprisings.
She has worked at various other South African publications, such as the Sunday Tribune, Sunday Times and Sunday Express, taking on roles such as news reporter and sub-editor. In 1984, Shinn won the award for the South African Computer Journalist of the Year.
She then went on to create a communications consultancy that specialised in the sector of Information and Communications. Apart from her media relations, she launched a trade show for vendors of application development for software.
Whilst in Johannesburg, Marian Shinn served on the committee of the Five Freedoms Forum (FFF), a civic organization whose aim was to create communication channels between the country's race groups in preparation for democratic government.
She produced the FFF's newsletter and was part of the delegation that visited the ANC in exile in 1989. Shortly after Nelson Mandela's release from prison in 1990 and negotiations for democratic change started taking place between the political parties the FFF disbanded.
She later joined the local branch of the Democratic Party, which is now the Democratic Alliance, where she was the branch chairperson and on candidate selection panels. In 2009 Marian Shinn stood for election on the DA list for the National Assembly and became a Member of the Fourth Parliament of the Republic of South Africa in May of that year.
She also served on the party's Federal Council, its highest decision-making body between Federal Congresses. When the Fifth Parliament of the Republic of South Africa was established in 2014 she was appointed the Shadow Minister of Telecommunications and Postal Services.