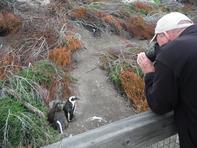 Karl's first steps into photography started in the mid-1980s with a battered 3rd hand Pentax SLR camera. In 1993 Karl gave up his career as an artisan on the open-cast mines in South Africa to travel around the world with his wife and child, which led to some great adventures.
Having lived and worked in South Africa, Namibia, Mozambique, Tanzania, Kenya, Egypt, St Marten, Zanzibar and the Solomon Islands, with a few career changes ranging from scuba instructor to nature guide to safari camp manager to travel consultant to photographer, his life has been an evolving adventure.
Karl is totally self-taught in the art of photography, but this has not stopped him from being published in numerous publications. Karl is a wildlife photographer and natural history fanatic by heart. Jack of all trades, master of none, with the rest being history.